Our Story

The Herd

Home

Rocks

For Sale

Bucks

Does

Project Goats

Map


Send us an Email

Or call:
254 547-2976
cell: 254 247-5276
&nbsp
If you have visited the "Our Story" page, you know why we have donkeys.



Daisy joined the security detail at six months old, she came to us from Valley Mills, Texas on 16 March 2014. Daisy is the guardian for the bucks. Even though she is not much bigger than the guys, she is in charge. She will, hopefully, be part of the team for some time to come.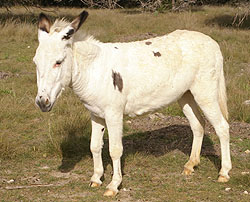 Sweet Pea Too is the newest member of the guard detail. Her assignment is to look out for the does. While not too tolerant of humans, she has shown herself to be very capable of taking care of her charges.
A sad note.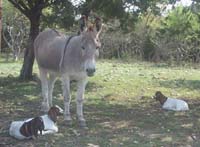 We lost Susie, our original guard donkey, on 29 January 2013. She had been suffering with laminitis for years. Since she would not allow anyone to get close enough to her to try and help, her condition deteriorated.

Susie was a great guard animal. She was gentle and tolerant with the goats she was hired to protect. She would allow the goats to take over her feed bucket, often without protest. Little kids had been observed climbing up on top of her when she was lying down.